Vasari 21
September 2019

Samantha Palmeri has a solo show of new paintings and works on paper titled "The Things Between Us" at the Catalyst Gallery in Beacon, NY, from September 7 through 29. "All of my work examines the interconnectedness of the natural, physical, and spiritual," writes the artist. "The impetus for this series of paintings in particular is much more personal and based on the relationships in my life. The title 'The Things Between Us' refers to both physical and metaphorical human connections and disconnections." There will be two receptions, on the 7th

and the 14

th

, 6 to 9 p.m.




Samantha Palmeri,
Collision
(2019), oil on canvas, 40 by 40 inches
---
Vasari 21
March 2019


From March 30 to April 28, Samantha Palmeri is part of a show called "Forces of Nature" at the Create Community Gallery in Cold Spring, NY, which brings together three artists (including Greg Slick and Jean Brennan) "whose work is very different in material and approach, but is rooted in the dialogue between body and nature," says the announcement "Pattern recognition, visual memory, the expression of nature through the body, or the body through nature; these have been fundamental since the dawn of modern man. What are the origins of art, the forces of nature that compel us to create? What links us to the evolutionary and material forces that led to cave painting 40,000 years ago? The painting, sculpture, drawing, and site-specific installation of each of these artists reflects and relies on past experience, but with an impulse toward the unknown."
Samantha Palmeri,
The Marriage Table
(2018), oil on canvas, 84 by 72 inches
---
Still Still Moving
Jayoung Yoon
Sensory Memory 01, 2017
Collograph on Hahnemuhle paper, Edition: 1/9
11 x 8 1/2 in
The Howland Cultural Center in Beacon, New York is pleased to present Still Still Moving, an exhibition of upwards of 80 drawings, prints, photographs and paintings by over 30 artists in celebration of Women's History Month 2019. The show, curated by Eleni Smolen, TheoGanz Studio, will be on view from March 2 – 31, 2019. The opening reception is Saturday, March 2nd from 2:30 - 4:30 pm. Come and join us!

Artists include:

Lori Adams, Elizabeth Arnold, Tina Bernstein, Gabe Brown, Laura Currier, Barbara Smith Gioia, Theresa Gooby, Mimi Czajka Graminisk, Beth Haber, Laura Kaufman, Insun Kim, Carole Kunstadt, Flynn Larsen, Claire Lofrese, Bibiana Huang Matheis, Lori Merhige, Andrea Moreau, Chantelle Norton, Samantha Palmeri, Susanna Ronner, Chris Sanders, Jackie Skrzynski, Kazumi Tanaka, Judy Thomas, Susan Walsh, Catherine Welshman, Anna West, Jayoung Yoon, among others…

On August 26, 1920 the 19th Amendment to the U.S. Constitution was passed, giving women the right to vote. Black women, however, especially in the South, were prohibited from voting for decades after 1920. It took the passage of the Voting Rights Act in 1965 that their rights were finally upheld. Native American women were not recognized until 1924; Chinese American women, 1943; and Japanese and other Asian American women it was 1952.

And so, women's history in this country is a history of a painfully slow and uneven slog by many dedicated individuals - women and men. We're still not there…even as we approach the Centennial of the 19th Amendment, we have yet to pass the Equal Rights Amendment (ERA) that would widely "prohibit discrimination on the basis of sex." Specifically, "Equality of rights under the law shall not be denied or abridged by the United States or by any State on account of sex."

We're still still moving towards that goal.


howlandculturalcenter.org
facebook.com/theoganzstudio
theoganzstudio.com

---
Vasari 21
June 2018



And now on to members in the news….
Samantha Palmeri is part of the three-person show called "Earthbound" (along with
Jackie Skzrysnki
) at the Hudson Beach Glass Gallery in Beacon, NY, through July 8. "Inspired by tree limbs and body parts as much as by piles of garbage and laundry,
Waste Not
is part of an evolving series of works that is meant as a metaphor for both our psychological and physical states of being," she writes...
Samantha Palmeri,
Waste Not
(2018), oil on canvas, 60 by 60 inches
---
Earthbound at Hudson Beach Glass Gallery
June-July 2018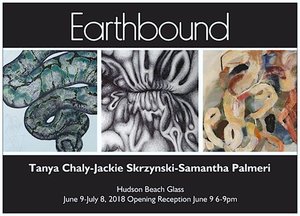 Earthbound
Jackie Skrzynski, Samantha Palmeri, Tanya Chaly


Press Release





Inspired by a profound relationship with their environment, these three artists interpret the natural world through the lens of science, abstraction and the body.

Samantha Palmeri is drawn to nature and the body, seeing intertwining lines and shapes as metaphor for internal struggles. Her studio practice evolves from a process based on repetition, knitting, and braiding. She looks at tree limbs and body parts as much as piles of garbage or laundry. Where it goes from there is left to the unfolding of mood and chance. Formerly a gallery owner herself, Palmeri just finished her second successful year as the Director of Beacon Open Studios.

Throughout her career, Jackie Skrzynski's work has challenged physical and psychological boundaries between humans and nature. In this work, she collapses the perception of interior and exterior space. Her large charcoal drawings of swirling forms and tangles suggest similarities between anatomical and botanical forms. Skrzynski writes that her imagery is inspired by her time in the woods near her home. Observing growth, decay and rebirth, she intends to convey her perception of nature as equally beautiful and unsettling. Outside the studio, Skrzynski is the creative force behind P.U.G. Projects, which stages pop-up exhibitions in Newburgh and beyond.

"Tanya Chaly makes visible the invisible forces of nature through interventions into her analytical drawings on paper of animals and the ecosystems they inhabit. Her work balances order with disorder, meticulously combining renderings in graphite and charcoal with indications of impending microscopic threats. Often, they take the form of thousands of pinholes depicting the molecular structures and toxins that impact species, and the delicate systems in nature that support them. Her work and installations are layered with clues to understanding complex issues in science and life. In the process, poignant questions arise surrounding resilience, survival and loss." – Matthew Garrison
Jackie Skrzynski
Fissure, 2016, ink on paper, 11 x 14 inches
Samantha Palmeri
Mattress, 2017, oil on canvas, 60 x 60 inches
Tanya Chaly
Harbingers Paradigms, Cat Bird & Harbingers Paradigms, Spring Peeper
Tanya Chaly
The Devourer & Realm of the Cave Dwellers Keeper of the Nest IV